Updates, Conventions and new Projects oh my!
2019 has been great to this lil' indie studio so far! We've attended a few conventions, released the biggest, scariest update ever (we're not being dramatic, you're being dramatic) for one of our existing games and announced a new project.
We're going to roll right over that mention of a new project (though many of you probably already know exactly what we're talking about) to discuss the release of Blade Symphony free to play and Playthrough GC. Don't you worry, we'll come back to it… or you can cheat and scroll down but where's the fun in that? 😉
Updates:
Blade Symphony is now Free to Play!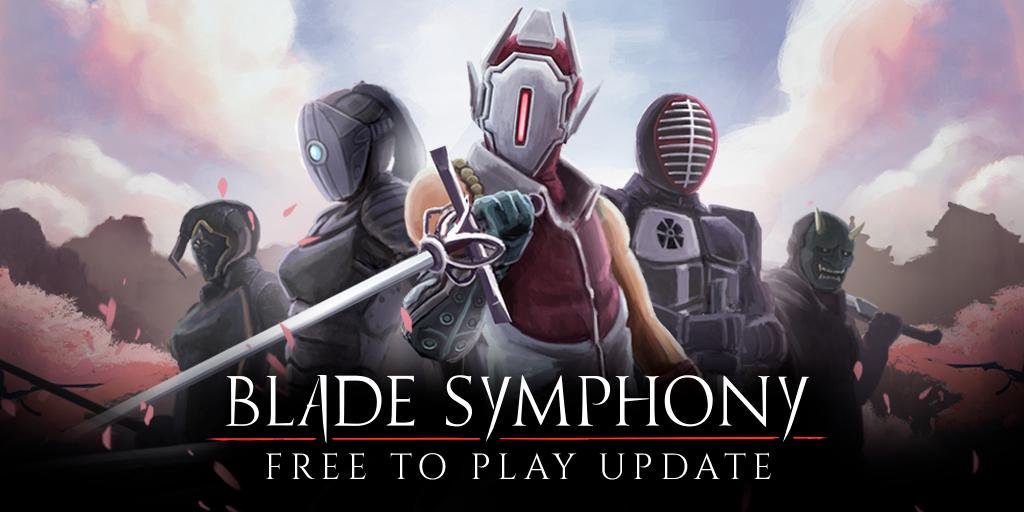 Blade Symphony going free to play has been years in the making. The final huge step on the way to Free to Play was the Harmonious Prelude update. With multiplayer updates, a new game mode, the addition of Mac/Linux and exclusive skins, capes and swords, this update paved the way for the now F2P version of Blade Symphony.
What does this mean for Blade Symphony?
Our main goal is that now anyone can download the game and play for free. It was important for us to make this game accessible to a wider audience and also help fill up servers for those in our community who are still playing on a regular basis. (Shout out to our Discord crew!)

An equally important feature to accessibility is making sure that we also reward those in the community that have been with us since the beginning. We have been working on exclusive items to give out to all owners of the game prior to it going free to play.

Bug fixes and optimization is still on the development roadmap. We're dedicated to keeping Blade Symphony updated with new gameplay features, optimization and performance improvements and bug fixes long after the free to play update.
If you're new to the game, welcome. If you've been with us since the beginning, thank you for your years of duels and memes. Still haven't played but want to try it out? We're available on Steam for free.99!
In addition to the work Puny Human has been doing to keep Blade Symphony and Galacide in tip top condition, (and alongside the work we're putting into this elusive project announcement) the devs here have been helping out on titles like Bard's Tale IV, Wasteland 3, Trover Saves the Universe.
Bard's Tale IV was released in September of 2018 but we continue to help InXile update and optimize the game. With new features and new platform releases, The Bard's Tale IV: Director's Cut update is slated to come out this autumn on PC, Mac/Linux, PS4 and Xbox One
Wasteland 3's Fig Campaign succeeded and is currently still in development. With the newly gained resources from the Microsoft acquisition, InXile is putting them to good use, ensuring Wasteland 3 will be the best version of itself it can be.
Trover Saves the Universe has been a blast to work on alongside Squanch Games, and we're happy to help them announce that it will be released on May 31st on PS4 and June 4th on PC!
Conventions:
We had mentioned in a previous post about the difficulty level for smaller studios to attend expos and gaming conventions. With a small staff local to the area and with limited time and resources, sometimes it just isn't in the interest of the company to haul equipment and employees to the expo floor to showcase for an entire weekend.
Lucky for us Playthrough Gaming Convention was in our own backyard: Raleigh NC!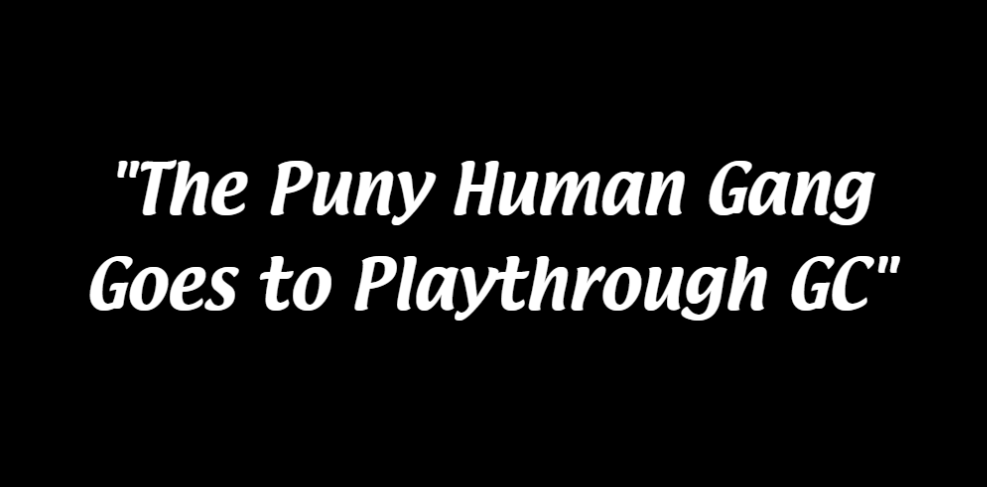 Playthrough was a fantastic experience for us. We set up Blade Symphony and Galacide for the community to stop by and play. The Raleigh gaming community, dev community and the Playthrough Convention staff gave us such a warm welcome. (Hi Tim!) Being new to the Raleigh Expo scene, we were excited to receive such overwhelmingly positive energy and feedback from everyone.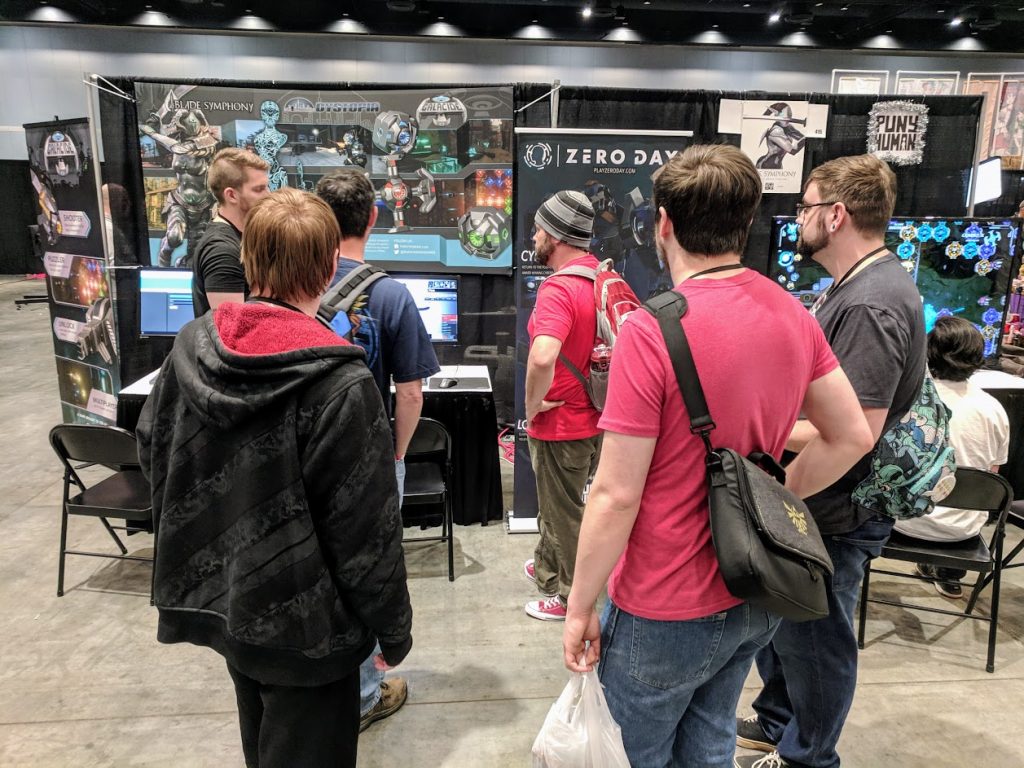 Although we were there to share our freshly minted free to play Blade Symphony and the ever popular couch co-op Galacide…We were able to hint at our upcoming project announce to many inquisitive gamers and lovers of the cyberpunk/shooter genre. (Look closely, you'll see the new game in some of the shots from the show.)
By the end of the convention, we were filled with enough positive energy and confidence to announce the newest edition to the Puny Human game library:
And new Projects oh my!: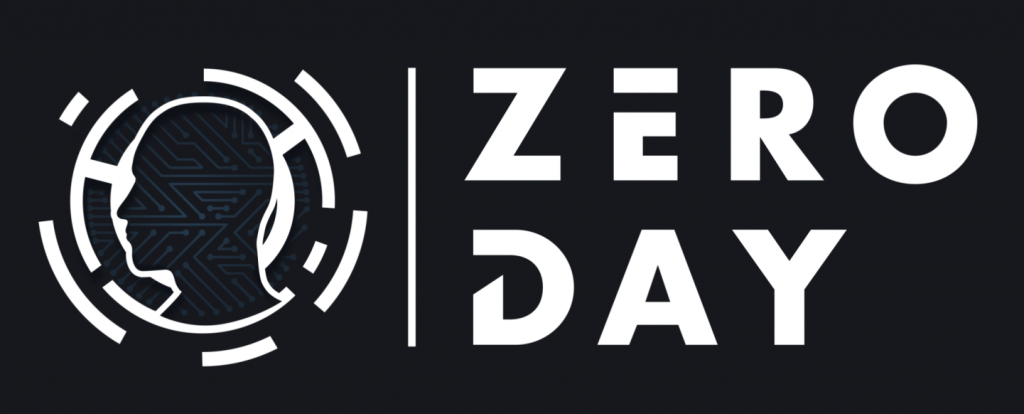 Enter Zero Day: A cyberpunk themed, objective-driven looter shooter that we lovingly call the spiritual successor to the original Dystopia mod created by Team Dystopia.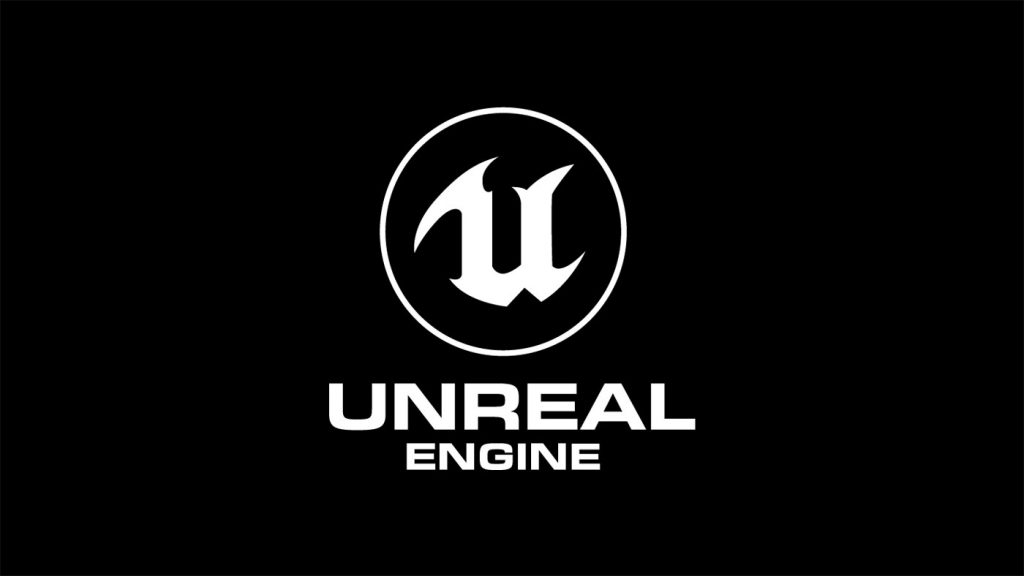 Following in the footsteps of Galacide with our switch to the Unreal Engine (The Dystopia mod and Blade Symphony are both Source),  Zero Day will also be developed using UE4. We've also chosen to be as open and as transparent as possible during the development of Zero Day. With this decision to share everything comes the realization that we'll be able to talk directly with the community in order to gain insight and feedback in real time during development. We feel this method of development is essential in today's Game Development industry, especially when crowdfunding campaigns are one of the reasons indie studios like us are able to continue to develop. We hope to bring many new lovers of the cyberpunk/shooter genre into our community alongside the many dedicated fans of Dystopia embedded into the Puny Human community.
Keep up with Zero Day's progress on the official Puny Human Discord or at PlayZeroDay.com
Our excitement for this game cannot be put into words. The term "Passion Project" immediately comes to mind. When we're not updating our current games or helping our partners with their own titles you can be sure we're chomping at the bit to dive as deep as we can into development on Zero Day.